Union Jack Class A Effect
After 2 years of extensive research and development, Musician Sound Design has developed a unique analog circuit which imitates the characteristics of tube circuitry with exceptional accuracy. This circuitry has been incorporated into two new overdrive units for guitarists ­ we are proud to present to you the Bonnie Blue & Union Jack Class A Effect.
---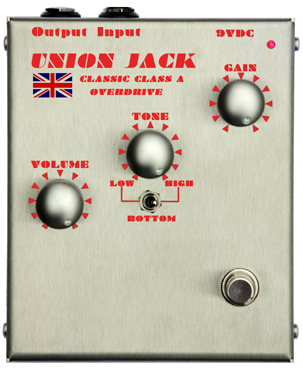 UNION JACK
The Union Jack overdrive is a brand new development that perfectly complements the rest of the MSD product line. This device reproduces the typical British sounds of the sixties and early seventies – the sound texture reminiscent of Eric Clapton and Cream, Jimmy Page or Paul Kossoff. This being said, the Union Jack sounds the best when placed in front of a Marshall or Vox Amp. The overdrive sound is rich and full, and this tonality is retained even as the amount of Distortion is increased. When using a small amplifier or combo, we recommend using the Deep switch which significantly increases the degree of low-end response. Thanks to its enormous headroom, The Union Jack provides stable, consistent overdrive in front of any amplifier and never sounds muddy or undefined. Only the highest quality components are used in the construction of the Union Jack, including the meticulous hand-selection of the transistors that guarantees perfect, consistent operation from unit to unit.
Sound Sample: Union Jack
Zu den Ausstattungsmerkmalen gehören:
Edelstahlgehäuse
Metall-Knöpfe
True Bypass-Switch
9 V DC-Buchse
externes Batteriefach.
Technische Parameter:
Spannungsversorgung: 6-18V DC nominal 9V DC.
Stromverbrauch: 7 mA.
Gewicht 0,8 KG
Maße: B 11,5 x H 13,7 x T 5,5cm
pess realese:Gitarre & Bass 12.2007 S. 184… Ebo Wagner:
…Alle Achtung, da erheben sich zwei kultivierte Pedale am Verzerrer-Firmanent. Musician Sound Design ist es überzeugend gelungen, den Character von Röhrenverzerrungen mit Halbleitern nachzubilden…
Optimized for Humbucking & Single Coil Guitars:

---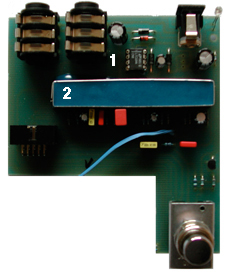 Technologie
Some unique technologies have gone into the development of these two new overdrive models from MSD. The first of these is plain old hard work ­ to achieve the amazing tube-like tones, MSD must test at least 2000 transistors to select and match enough to make 100 pedals. While this may seem like "overkill" to many, MSD feels that the results are audible. In addition to this method of "un-natural selection" regarding their components, both the Union Jack and Bonnie Blue circuits feature the ingenious "Blue Block". The Blue Block was developed by MSD to counter the most common problems associated with transistor distortion units. The Blue Block is a specially designed metal casing that provides additional shielding to the transistors in order to reduce radio interference and noise. Inside the Blue Block, all the transistors and other components are encased in a special casting resin that further suppresses noise and micro phonics. More importantly, this resin prevents the temperature drift that can cause a transistor distortion to sound different from night to night. The result is quiet, smooth consistent tone EVERY night.
Notes:
The Union Jack features no internal Voltage Doubler circuit, and it can operate in a range of 6 V DC to 18 VDC. At 6 VDC the pedal offers a softer, warmer Distortion-Sound, while at the max. 18 V DC it produces a more clearly defined Distortion tone.
The Bonnie Blue uses a Voltage Doubler circuit to ensure the pedal stays in the operating range of 5 V DC to 9 V DC, providing consistent tone. An operating voltage higher than 9 V DC is not permitted, as this would damage the unit and void the warranty.
Photo:
No.1Voltage-Doubler circuit (Bonnie Blue)
No.2 Blue Block (Bonnie and Union)
Copyright © 2016 Musician Sound Design. All rights reserved.