Silverstone Classic Overdrive.
Silverstone
Named for the classic British racing hot-rod, Silverstone produces scorching, full-throttle tube-amp overdrive with an open, full-frequency response. Volume, Tone and Warmth controls provide a variety of overdriven tones, from clean boost to punchy, powerful saturation, all with amazing dynamic response. Low/High tone switch allows the Silver Stone to be used with Bass as well as Guitar. In the race for great tone, there can only be one winner drive the Silverstone to victory!
Dimensions: W 11,5 x D 13,7 x H 5,5 cm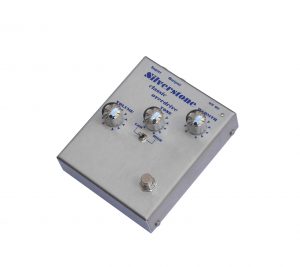 press release:Bassprofessor 1.05.
The Musician Sound Design Silverstone is a real prof-unit. It¹s perfect for classic metal-sounds like "Rage against the Machine" or heavy and stiff Nu-Metal-riffs.
It¹s not only an effect unit, but nearly like a real valve preamp with the sound of a big tube amp top.
Bassprofessor Chef Roland Kaschube " is a real prof-unit.…"